Spotlight on Dietitian Speaker Jennifer McGurk
Jennifer McGurk knows what it's like to pursue a dietitian dream till it becomes reality! With enthusiasm, courage and lots of laughs, she's built an empire helping others do it, too. Read on as we hear from the brains behind Dietitian Business School and the Pursuing Private Practice book series.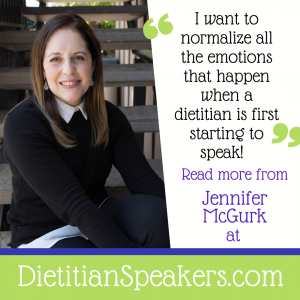 DS: Tell us about your speaking path.
JM: I got started presenting on eating disorder recovery and Intuitive Eating in my local community when I was growing my private practice. To spread my message, I started to apply to some conferences and events for dietitians. I love to speak to dietitians!
I was so nervous for my very first FNCE [The Academy of Nutrition & Dietetics Food & Nutrition Conference & Exhibition] conference as both an attendee and speaker! I remember feeling a mix of excitement, anxiety, happiness, and dread all at the same time. I want to normalize all the emotions that happen when a dietitian is first starting to speak! Now I speak as a regular part of my career and in many different ways.
DS: How do you decide whether a presentation will be free or paid?
JM: Speaking for free was a great way to get started. It was amazing practice and really helped increase my confidence when I was just starting out. But when resentment slowly started to creep in, it was time to charge accordingly.
I've learned that my time is worth a lot and that speaking takes up more time than just while I'm presenting. Dietitians deserve to be paid well for our time and expertise. But when someone is already paying for my services, like in Dietitian Business School, I don't charge them additionally for those presentations.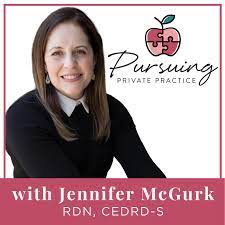 I've also made speaking without being paid into part of my marketing plan to introduce my services to other dietitians, especially on my podcast Pursuing Private Practice. I present workshops in my paid group all the time. I also speak at conferences and events, sometimes paid and sometimes as part of my marketing plan.
DS: What do you look for in a speaker when you're in the audience?
JM: Someone who can weave in storytelling and not just read words off their slides.
DS: How has the past year impacted your speaking?
 JM: I've recently realized that speaking doesn't have to be in person anymore. Some of my most successful presentations have been virtual due to COVID. I want to continue to speak virtually, even when COVID is over.
DS: Thank you Jennifer!
To learn more about Jennifer and hire her at your next speaking event, visit her websites eatwithknowledge.com and pursuingprivatepractice.com.
Follow Jennifer on social media: Facebook @JenniferMcGurk, Twitter @JenMcGurkRDN, Instagram @pursuing.private.practice, and LinkedIn @JenniferMcGurk.
Have you heard Jennifer present? We'd love to read your comments below!
Spotlight on Dietitian Speaker Jennifer McGurk