From Fearless Feeding to Fearless Leading: Spotlight on Dietitian Speaker Jill Castle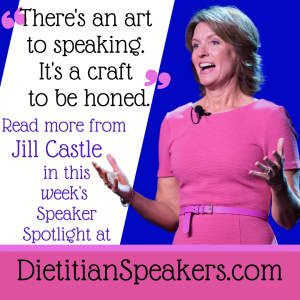 Jill Castle's recipe for speaking success? She mixed her expertise as a children's hospital dietitian with her experiences as a mother of four, folded in a heaping helping of top-notch communication skills, and blended it all into books, courses, a TED talk, and a podcast. Read on as DietitianSpeakingGuide.com interviews our first Spotlight Speaker!
JC: My speaking platform reflects my perspective on childhood nutrition on a larger, thought leader level as well as in micro-expertise areas. The Nutrition Prescription for Healthier Kids, which I presented at TEDx, is my signature talk, introducing what I call my "trifecta" of child feeding principles. My workshops and breakouts take th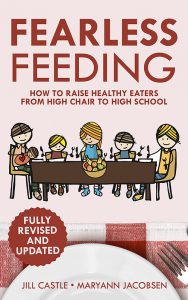 e main concepts of The Nutrition Prescription to a more experiential and specific level. For example, Nourished: A New Model for Raising Healthy Kids takes a deep dive into the same trifecta in either a half- or full-day workshop. My breakout sessions include the trifecta in the context of a specific topic update, like Attention Deficit Disorder or Avoidant Restrictive Food Intake Disorder. And even when presenting on nutrition communications and speaking, I always weave in examples related to child feeding.
DSG: Pricing and payment are uncharted territory for dietitians starting to give talks. Do you have any advice for making the move from volunteer to professional speaker?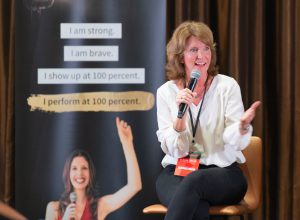 JC: I think with anything around asking for compensation, you need to wrap your head around a few things: what feels like a right price for the effort and expertise; what would be too low and not worth it; and what the market will bear. Then you make a decision to ask for what you want (and promise yourself you won't back down). Prepare yourself for a "no" and be okay with that. For me, I initially wanted the experience of presenting, and that was worth doing my first one or two or three without compensation. After that, I charged something I felt reflected my value, and I worked my way up to my current rates. Understanding what speakers outside of healthcare get paid can help you move forward with your fees.
DSG: What inspires you as a speaker?
JC: I think there's an art to speaking. It's a craft that should be honed and worked on, from your style of presenting to how you connect with the audience and the stories you tell. My goal is to be a speaker who can make the audience sit on the edge of their seat, have an Aha! moment, and leave ready to take action. I think this requires being fearless with your thoughts and weaving stories into presentations so that the research/techniques/tips come alive. I watch TED and TEDx talks to get inspired.
DSG: What experiences as a speaker have forced you to learn and grow, whether you wanted to or not?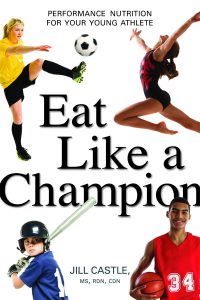 JC: Early on, I had a situation where my slides didn't work, so I had to go solo and mostly by memory. It was a good lesson on not only knowing your stuff, but your talk structure and how you are moving the audience to transformation. Fortunately, most of my evaluations have been good, but like most of us, I focus on the negative ones! I've learned over the years that you cannot please everyone, and when you choose to put your own ideas and thoughts out there–particularly when crafting your thought leadership–you are open for criticism. I think you have to grow a thick skin and be convicted in your ideas. I think the biggest life skill I've learned is how to connect with any audience through storytelling. I've always inherently been a storyteller in my one-on-one practice, but to bring stories to the stage is an art I keep working on. When you tell stories, particularly personal ones, the vulnerability connects you with the audience deeply and they become more invested in what you have to say, they remember you, and they take the actions you want them to take. I love when people come up to me later and tell me their stories or ask questions about my stories! It's truly changed the way I speak, and I've learned to mine stories from my own past and my interactions as a dietitian to enhance my messages.
DSG: It's so eye-opening to hear that even as an accomplished speaker you're still trying to learn and grow. Jessica is going to love what you said about vulnerability connecting you with the audience – she often says that one of her big surprises as a speaker is the more she shares of her authentic (and authentically imperfect) self, the more enthusiastically people respond. THANK YOU Jill for sharing your path with our readers.
Have you heard Jill present? We'd love to read your comments below.
Interested in booking Jill for your next event? Visit her speaking page or email her directly at [email protected].
Follow Jill on Twitter @pediRD, Facebook @TheNourishedChild and Instagram @i.am.pediRD, and on her podcast, The Nourished Child.