Spotlight on Dietitian Speaker Dua Aldasouqi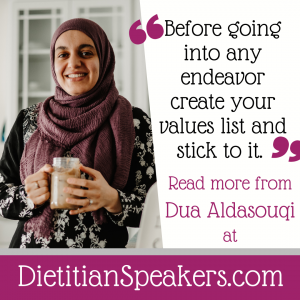 Dietitian Dua Aldasouqi has a lot to say about values – the value of dietitian speakers in general as well as the things that are valuable to each of us. Read on as she shares her speaking evolution and what she's learned.
DSG: Tell us about your evolution as a dietitian speaker.
DA: I've always been a public speaker at heart. In high school I auditioned to give a speech at graduation and was selected. In undergrad I performed as a spoken word artist – basically performance poetry. That's where I really got more comfortable with public speaking. Now I'm able to create a rhythm that I know works for me.
One of my issues in the beginning was talking too fast, which I have thankfully been able to navigate through by making sure I slow down enough. I feel like I've learned about myself and my speaking style to where I can now speak publicly and comfortably.
I'm currently primarily focused on doing speaking engagements. I've been a dietitian for over 11 years, and going into the profession I knew that clinical and one-on-one counseling were not for me. I started my own business in 2017, and then COVID helped me shift into a role where I was primarily doing public speaking engagements as A Muslim Dietitian, which is my business name.
I create content for Muslims to help them navigate their health in the US, primarily through webinars that I create and advertise on my own platform. I'm also invited to speak by different Mosques, Muslim student centers, Muslim associations and the like, either on spirituality and nutrition or sometimes strictly just nutrition but with a Muslim audience in mind. I also create content for dietitians who are specifically non-Muslim to help them navigate working with their Muslim patients and clients.
I do have some content in the works where I could do a course or a group session, but right now I haven't set those up yet.
DSG: It sounds like you've found the perfect Unique Speaking Platform for yourself. At any point did you have to make a transition from speaking for free to asking to be paid? It can be a challenging situation – we'd love to know how you navigated it.
DA: The transition from speaking for free to asking to be paid was definitely challenging and also incredibly necessary, because I shifted my entire business model to being paid for speaking. I'm not seeing one-on-one clients at all anymore, only doing speaking engagements.
Initially it was hard to even bring up asking to be paid. If someone reached out to me, I worried about it. How do I ask? What should I say? Over time I became more comfortable with the idea of asking for payment, recognizing that I bring my expertise as a Registered Dietitian and as a Muslim in America to the table. I've studied traditional Muslim studies and bring that unique expertise, too. I was able to kind of cross reference this all in my mind with my values. And I'm so thankful to have been exposed to the idea of setting your values as this ultimate framework.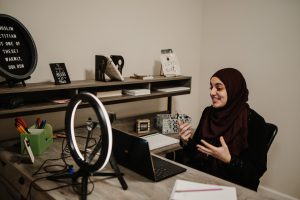 For example, one of my values is authenticity, which has nothing to do with getting paid, but the second value is self-preservation. So it is extremely important for me to work in a manner that allows me to preserve myself and my relationships, and to do that I need to get paid. With that being said, I do value being able to provide content for free, but I like to be able to make that choice for myself.
I've gotten into the habit of whoever asked me to speak, whether or not I'm going to do it for free, I ask if compensation is provided for the speakers. I've found that the majority of people will say yes or ask how much is appropriate; it's not as off-putting as I thought it would be in the past. If people can't then they just say no. I haven't really had people say no outright but rather come back and say maybe this isn't the right time for us but we might be able to do it later. If it's someone that I really want to work with, I do offer my services for free at that time with the hopes of developing a relationship as well.
Obviously it's give and take, but I have to say that now I'm gratefully very comfortable asking to get paid. I'm happy about it because it is important for me and others that are trying to do the same thing to get paid so that people who contact dietitians know that that is the expectation. If you're bringing in someone who is an expert on a topic, the expectation is that they should be paid. Not everyone is capable of paying but if you start from that expectation, then people can understand that you may not be able to do it that time but possibly in the future.
DSG: Do you have any advice for a dietitian who is feeling insecure about expecting to be paid to speak?
DA: The number one thing I would say to reassure dietitians is that requesting payment is the standard expectation. I am working as a dietitian in a sphere where typically payment is not easily come across. These are faith-based organizations and they are not as used to paying for a lot of things, and even THEY are not usually surprised that I request payment.
There is an Islamic center that I have worked with 3 times now. The first time they reached out to me I asked them about compensation and I gave them my rate. They were honest with me that since COVID started their funding has been shutdown, so I offered a discount. They were gracious and worked with it, then asked me to come back again also at a discount, and the third time they asked me and paid my full rate. So that's an example of how it can be a little bit of a process over time, but it is important to have rates and know where you want to be.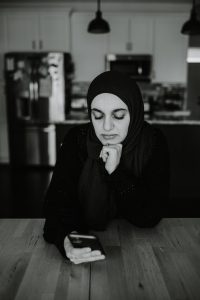 DSG: Thank you for that reminder. What about when you're in the audience… What do you like or dislike about a speaker?
DA: I personally don't enjoy a lot of repetition. I know there is value in someone who has some level of repetition, but too much is too much. A speaker that comes in and keeps trying to drive home one or two points and isn't really adding or expanding to that is a turnoff for me. I want to say, "Okay I got it, can we move onto the next point?", because I lose focus when the speaker is repetitive.
DSG: Do you have any advice for a dietitian speaker who's just starting out? Our readers especially love glitches and hearing about how you got through them.
DA: When I first started as a public speaker, I was doing spoken word in college. Those that are not familiar, spoken word is basically performative poetry. You write a poem and you go up on a stage and you perform it. You have it memorized and there is some level of physical actions that you do that differs from person to person and poem to poem.
My first time performing as an opening act for someone else, I was performing two poems. I had them memorized, and I was up there onstage, and I was 3-4 lines into one of them… and I could not for the life of me remember what was coming up next, even though I had read it to myself about 100 times. I froze. I just stopped for a few seconds and then I realized and remembered and I picked back up and continued.
The reason I bring this up is that it's a huge fear when speaking – What if I mess up? It turns out the audience doesn't care as long as you are able to continue and be coherent. In other poems that I've done, I might continue and say the wrong word and I'm the only one that knows it's the wrong word. I just keep going. Continuing the flow if you mess up is a lot more powerful than going back and fixing it or even clarifying that you made a mistake, unless it is a grave mistake that needs clarification.
Other pieces of advice I have are related to values. Make sure you know your values. This allows you to better be able to determine what opportunities you are willing to take or not to take.  Making a list of values for your business can also help shape the direction in which it goes. Before going into any endeavor create your values list and stick to it. That way you won't have regrets about turning something down that isn't the right fit.
DSG: Thank you for that great advice.
To hire Dua for your next speaking engagement visit her website amuslimdietitian.com.
Follow Dua on social media: Facebook @duaRDN, Instagram @amuslimdietitian, Twitter @amuslimRDN, and YouTube @DuaTheDietitian, LinkedIn @DuaAldasouqi.
Spotlight on Dietitian Speaker Dua Aldasouqi