From Fearless Feeding to Fearless Leading
Jill Castle's recipe for speaking success? She mixed her expertise as a children's hospital dietitian with her experiences as a mother of four, folded in a heaping helping of top-notch communication skills, and blended it all into books, courses, a TED talk, and a podcast. Read on as DietitianSpeakingGuide.com interviews our first Spotlight Speaker!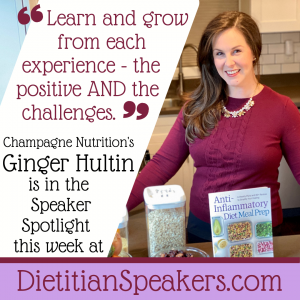 Something to Toast About
Ginger Hultin pours her many interests into a full-bodied blend of Dietitian Speaker, writer and future sommelier. Read on to hear what she spilled in a conversation with DietitianSpeakingGuide.com.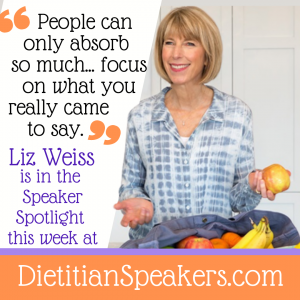 Recipe for Success
Dietitian speaker Liz Weiss blended culinary training with a love of family meals into a smooth speaking career. But there have been a few lumps in the batter. Read on as DSG gets the scoop.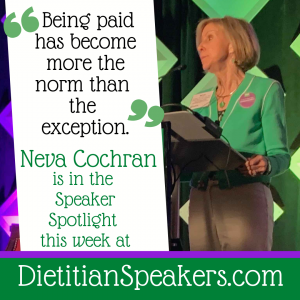 Dollars and Sense
Combatting nutrition misinformation is dietitian speaker Neva Cochran's cup of tea. Read on as she shares with DietitianSpeakingGuide.com how she infuses media communications experience into her presentations.
If the name Jessica Jones rings a bell, it may be because she's a superhero. Not the Marvel superhero Jessica Jones – this Jessica Jones is a superhero dietitian, fighting cookie-cutter nutrition advice and spreading her wisdom across the nation through print, podcast and in person. Read on as she shares her origin story with DietitianSpeakers.com.
Dietitian speaker Tori Schmitt surfs a wave of positivity encouraging clients to say YES! to nutrition. So when does this Queen of YES! strategically say NO WAY? Read on to find out…
Julia Cassidy's lovably authentic vibe shines through in everything she does, especially  presenting. Read on as she gets real with DietitianSpeakers.com about armpit sweat, comfort pants, and why people like when things get messy.

Like
Madonna
 and 
Elvis
, this famed 
dietitian speaker
 needs only one name: 
Neily
. During their internship at 
Texas Woman's University
, with several Jennifers in the class, our own Jessica Setnick started using last names. For Jennifer Neily, it became her calling card. Read on as she tells her story to DietitianSpeakers.com.
Christine Palumbo went from cheering for her high school and college to cheering on dietitians who want to work in communications. She's also an energetic supporter of consumers in improving their nutrition habits. Plus she's the only dietitian speaker we know who's been a guest on Oprah. Read on as Christine shares her inspirations with DietitianSpeakingGuide.com.
Leslie Bonci has a signature style that's easy to spot: she hits home-runs with her puns and rhymes at the right times. Read on as she shares her favorite speaking topics and tips with DietitianSpeakingGuide.com.
Talking with Deanna Seagrave-Daly about her speaking career is like drinking from a fire hose – her ideas and strategies bubble up and out in a fountain of enthusiasm. Read on as she shares her best tips with DietitianSpeakingGuide.
Alex Caspero is a Dietitian Speaker who knows how to pivot. From growing her speaking niche to adapting to covid life, read on for her take on professional speaking and why it's good to feel uncomfortable.
As a teen scooping ice cream, food marketing expert and business coach Robin Plotkin was already on her way to continuing a family legacy of entrepreneurialism. Read on as she dishes about her path to professional success.
In the 1980's, "Keri is so very…" was the slogan for hand lotion. Now it's a statement of fact about dietitian speaker Keri Gans. She's so very knowledgeable, personable and capable, we were thrilled to have the chance to chat about her speaking career. Read on for her take on our favorite topics.
David Wiss likes to dive deep into the dark corners of his favorite speaking topics – addictions, eating disorders, and traumatic experiences – in addition to the hive mind of dietitians. Read on as DietitianSpeakers' Alex Caljean probes the depths.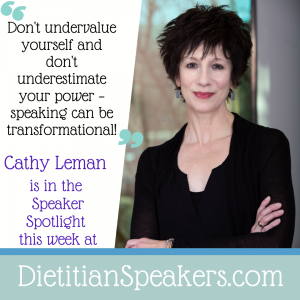 Cathy Leman has been in the business of changing lives ever since she stepped onto the scene as a dietitian speaker. Now that she's survived cancer, she brings an even more personal touch to the transformative power of presenting. Read on to hear her story.