From Fearless Feeding to Fearless Leading
Jill Castle's recipe for speaking success? She mixed her expertise as a children's hospital dietitian with her experiences as a mother of four, folded in a heaping helping of top-notch communication skills, and blended it all into books, courses, a TED talk, and a podcast. Read on as DietitianSpeakingGuide.com interviews our first Spotlight Speaker!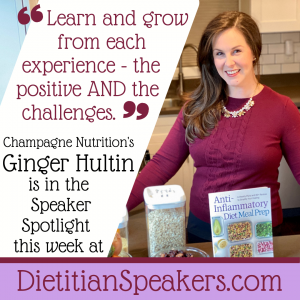 Something to Toast About
Ginger Hultin pours her many interests into a full-bodied blend of Dietitian Speaker, writer and future sommelier. Read on to hear what she spilled in a conversation with DietitianSpeakingGuide.com.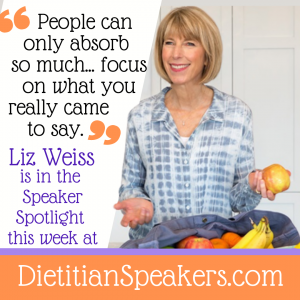 Recipe for Success
Dietitian speaker Liz Weiss blended culinary training with a love of family meals into a smooth speaking career. But there have been a few lumps in the batter. Read on as DSG gets the scoop.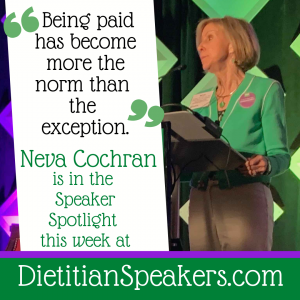 Dollars and Sense
Combatting nutrition misinformation is dietitian speaker Neva Cochran's cup of tea. Read on as she shares with DietitianSpeakingGuide.com how she infuses media communications experience into her presentations.
If the name Jessica Jones rings a bell, it may be because she's a superhero. Not the Marvel superhero Jessica Jones – this Jessica Jones is a superhero dietitian, fighting cookie-cutter nutrition advice and spreading her wisdom across the nation through print, podcast and in person. Read on as she shares her origin story with DietitianSpeakers.com.
Dietitian speaker Tori Schmitt surfs a wave of positivity encouraging clients to say YES! to nutrition. So when does this Queen of YES! strategically say NO WAY? Read on to find out…
Julia Cassidy's lovably authentic vibe shines through in everything she does, especially  presenting. Read on as she gets real with DietitianSpeakers.com about armpit sweat, comfort pants, and why people like when things get messy.

Like
Madonna
 and 
Elvis
, this famed 
dietitian speaker
 needs only one name: 
Neily
. During their internship at 
Texas Woman's University
, with several Jennifers in the class, our own Jessica Setnick started using last names. For Jennifer Neily, it became her calling card. Read on as she tells her story to DietitianSpeakers.com.
Christine Palumbo went from cheering for her high school and college to cheering on dietitians who want to work in communications. She's also an energetic supporter of consumers in improving their nutrition habits. Plus she's the only dietitian speaker we know who's been a guest on Oprah. Read on as Christine shares her inspirations with DietitianSpeakingGuide.com.
Leslie Bonci has a signature style that's easy to spot: she hits home-runs with her puns and rhymes at the right times. Read on as she shares her favorite speaking topics and tips with DietitianSpeakingGuide.com.
Talking with Deanna Seagrave-Daly about her speaking career is like drinking from a fire hose – her ideas and strategies bubble up and out in a fountain of enthusiasm. Read on as she shares her best tips with DietitianSpeakingGuide.
Alex Caspero is a Dietitian Speaker who knows how to pivot. From growing her speaking niche to adapting to covid life, read on for her take on professional speaking and why it's good to feel uncomfortable.
As a teen scooping ice cream, food marketing expert and business coach Robin Plotkin was already on her way to continuing a family legacy of entrepreneurialism. Read on as she dishes about her path to professional success.
In the 1980's, "Keri is so very…" was the slogan for hand lotion. Now it's a statement of fact about dietitian speaker Keri Gans. She's so very knowledgeable, personable and capable, we were thrilled to have the chance to chat about her speaking career. Read on for her take on our favorite topics.
David Wiss likes to dive deep into the dark corners of his favorite speaking topics – addictions, eating disorders, and traumatic experiences – in addition to the hive mind of dietitians. Read on as DietitianSpeakers' Alex Caljean probes the depths.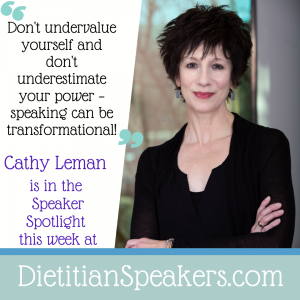 Cathy Leman has been in the business of changing lives ever since she stepped onto the scene as a dietitian speaker. Now that she's survived cancer, she brings an even more personal touch to the transformative power of presenting. Read on to hear her story.
Dietitian Speaker Marci Evans, aka Marci RD, is well-known to eating disorder professionals around the world. With her groundbreaking work educating future professionals and her emphasis on inclusivity in the field, Marci is opening doors, hearts and minds. Read on for her illuminating thoughts on bringing your humanity – and the songs of your heart – into your presentations.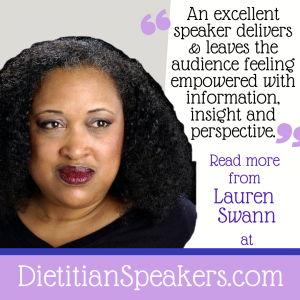 Lauren Swann is a pioneer in our field, presenting to national audiences for more than three decades. Read on as she shares her experiences and what she's learned.

Wouldn't you like to be such an AMAZING speaker that people just hand over their money??? Sally Kuzemchak tells DietitianSpeakers how it's done.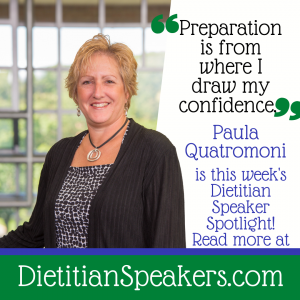 Dietitian Speaker Paula Quatromoni is the gift who keeps on giving. Read on for her amazing story and the lessons she's happy for us to share.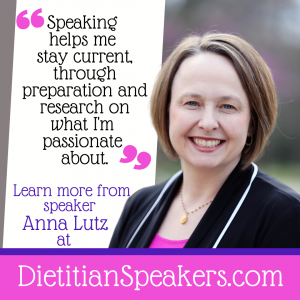 Anna Lutz is a Dietitian Speaker who gets right to the point. Read on as she focuses in on the good stuff in this week's Speaker Spotlight. 

Heidi Skolnik is no rookie when it comes to professional speaking. Having worked with quite a few heavy hitters in professional sports, she pirouetted into professional dancing and hit a homer with
The Athlete Triad Playbook
.
Read on
as she gives DietitianSpeakers.com a backstage tour of her front-row career.
Jennifer McGurk knows what it's like to pursue a dietitian dream till it becomes reality! With enthusiasm, courage and lots of laughs, she's built an empire helping others do it, too. Read on as we hear from the brains behind Dietitian Business School and the Pursuing Private Practice book series.
Media guru Bonnie Taub-Dix has mastered multiple forms of communication – including speaking to live audiences large and small, on-site and online. Read on as she shares lessons learned about leaving room for spontaneity and things that matter more than money.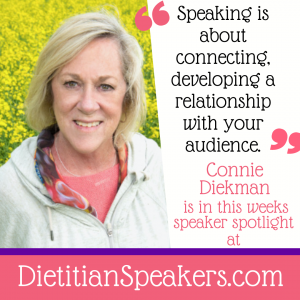 From television reporter to Academy President, Connie Diekman's speaking savvy has taken her far beyond the St. Louis Arch. Read on as she shares her best tips for staying confident about charging, plus her unusual connection to two US Presidents!
Superstar alert! Dietitian Speaker Nancy Clark is the Jesse Owens of sports dietitians, breaking ground for the field since before it had a name. If nutrition were the Olympics, she'd have medaled in multiple events. She's even been pictured on a Wheaties box! Lucky for us, she took the time to share some tips for speaking success from her long career at the top.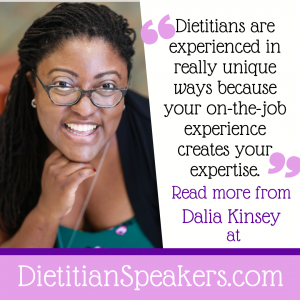 Even if you've been a dietitian for just two days, Dalia Kinsey's your biggest cheerleader. Read on as she shares how she learned to normalize asking to be paid, even when it's hard, and how focusing on transformation is the key to success.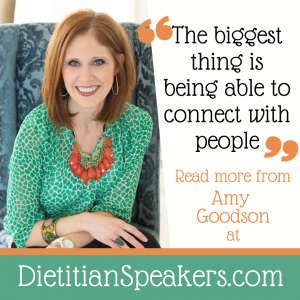 Dietitian Speaker Amy Goodson radiates personality – enough to light up a room when the power goes out in the middle of her presentation. Read on as she illuminates us on her path to star status, how she turned a green screen into gold, and tips for igniting YOUR speaking career.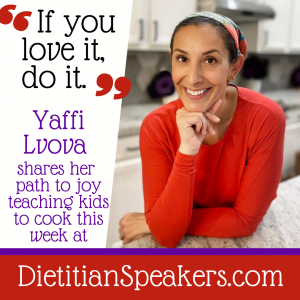 Yaffi Lvova's mission is creating more joy, connection and tolerance – with both food and other people. Read on for her take on all the feelings of the past 18 months, how she feels about asking for $$, and the ups and downs of her speaking experience.
Spotlight on Dietitian Speaker Toni Toledo.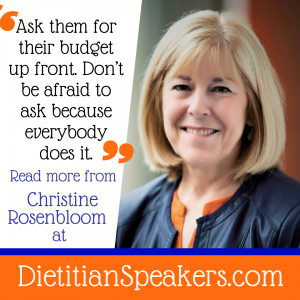 Spotlight on Dietitian Speaker Denine Rogers.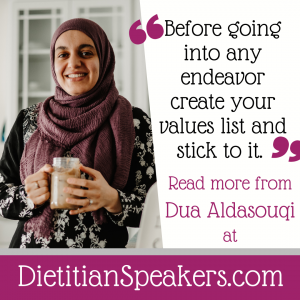 Dietitian Dua Aldasouqi has a lot to say about values – the value of dietitian speakers in general as well as the things that are valuable to each of us. Read on as she shares her speaking evolution and what she's learned.