Spotlight on Dietitian Speaker Marci Evans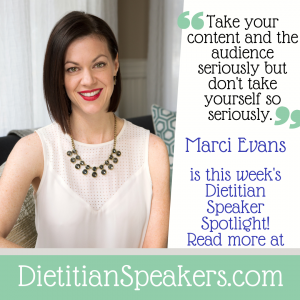 Dietitian Speaker Marci Evans, aka Marci RD, is well-known to eating disorder professionals around the world. With her groundbreaking work educating future professionals and her emphasis on inclusivity in the field, Marci is opening doors, hearts and minds. Read on for her illuminating thoughts on bringing your humanity – and the songs of your heart – into your presentations.
DS: Your Marci RD brand is well-known among eating disorder dietitians. For those who don't know you yet, tell us about your Unique Speaking Platform.
ME: I am passionate about speaking on any topic that supports food and body image healing for clients while elevating and strengthening the role of the Registered Dietitian Nutritionist. Speaking dovetails with the work I do with individuals in recovery from an eating disorder and with educating clinicians on how to work in this complex and rewarding field. Historically the talks I've given draw important attention to the topics I'm passionate about and also increase interest for professionals to get further training. I always think of my work as bi-directional, improving client care and supporting clinicians doing the work.
DS: Wonderfully said. How did you get started as a dietitian speaker?
ME: Speaking has been a part of my work from the very beginning of my career. I believe the first paid speaking opportunity I had was an invitation to speak to a local fire department about nutrition. I had only been a dietitian for a few months and was incredibly nervous. But they were such a warm and welcoming crowd! That experience taught me that speaking is fun and impactful. My reach was far greater when speaking to a crowd!
DS: I love that you took a risk and felt great about it afterward. Do you have guidelines you use to determine if an opportunity is a good fit?
ME: Our best work occurs when we stretch beyond our comfort zone so I have always said yes to speaking opportunities that make me both a little anxious and excited. Over time I have become more selective on the topics I speak about and more boundaried about getting paid. There are a lot of ways that I offer my time and knowledge freely for the benefit of others. But I have learned that most often, I will only speak if I am being paid. I pour countless hours and resources into my talks and believe that in most circumstances (perhaps not all) we should be compensated for that work.
I also strive to hold my value of creating greater equity in the field at the center of my work. So there have been times when I have redirected payment or speaking opportunities to better support and amplify my underrepresented colleagues. I hope that those us with privilege will continue to be selective about how we might make room for our higher weight, BIPOC, queer/trans colleagues.
DS: That's an eye-opening take on recommending other dietitian speakers – not just because the date doesn't work but really trying to help highlight dietitians who are less well-known and have important things to contribute. Say more about your stance on being paid for speaking and how you'd coach our new and aspiring dietitian speakers to approach their fees.
ME: I have given many talks over the years without receiving payment. This helped me build my skills as a speaker and confidence to ask for payment. So I do think there is something to be said for gaining as much experience as you can so you can become more clear about your worth as a speaker.
Now, when I am invited to speak somewhere, one of the first questions I ask is if it's a paid speaking opportunity. I let them know upfront that if there is no budget to pay their speakers I sadly need to decline. Most professionals 100% understand and respect this. My second question is what their budget is for paying a speaker. Typically they ask me what I charge and I do my best to estimate the time required to prepare and give the requested talk and multiply by my hourly rate. Sometimes they accept this rate and sometimes this requires some negotiation. Truthfully, I am not perfect at this and have made numerous mistakes over the years where I haven't adequately valued my own work. It's all a part of the learning process.
I have two suggestions for you:
Take your time before offering a number. Reflect on the speaking opportunity – what are the non-financial benefits to giving this talk, is this a topic you've spoken on before, is this a speaking opportunity that actually aligns with the reputation you are trying to build? And seek the advice of a friend or colleague to help you pitch properly.
Consider reading a book or at least a couple of articles on negotiation. Historically we are a field of women who underestimate our value and do not feel particularly confident advocating for ourselves.
DS: That's some phenomenal advice. Thank you for letting us peek into your process. You've really put in the work to find what works best for you as a dietitian speaker. Do you have a memorable moment or experience you think of as a highlight of your speaking career?
ME: I will never forget speaking with Jessica Setnick and Steven Bratman at FNCE [the Academy of Nutrition and Dietetics Food and Nutrition Conference and Exhibition] back in 2016 on the topic of orthorexia. The event planners placed us in a huge hall which we assumed would be sectioned off to make a smaller room for the talk. Well we were wrong and couldn't believe the crowd. Hundreds of dietitians continued to pour in for a final headcount somewhere around 4,000.
I was so incredibly anxious my heart is pounding just thinking about it! It was such a profound experience to be able to speak from my heart on a topic I care so deeply about. It was exciting and scary to make such a big impact with just 30 minutes in front of the mic. I still get emails from dietitians who let me know that that talk was a turning point for them in their careers. WOW!
Part of what made that experience so fantastic was being part of a team, particularly speaking with Jessica who was like a rock right by my side. When you're doing something scary, it's great to have your supports nearby!
DS: What an opportunity to make an impact! And what a leap from speaking to a fire department! Now let's flip the script: What do you like to see when you're attending a presentation?
ME: I love listening to someone who is relatable and totally human! When people bring their authentic selves into their talks I feel so connected to their message. Additionally, I am really affected by other people's emotional states. So if I can sense that the speaker is incredibly nervous it is really hard for me to enjoy the talk. But when I can feel the speaker's passion and expertise it makes for such a great experience.
DS: I'm so glad you said that about authenticity creating connection. Jessica has said many times that she was surprised that the more she let her authentic and imperfect self shine through in her talks the more her speaking career soared. How do you open the door to that authenticity and connection when you're the speaker?
ME: I practice the hell out of my talks so that when I'm on stage I pretty well know what I'm going to say and can relax and have a good time with the audience. I feel like this is my secret sauce and something that has become crystal clear for me over time. When I'm confident in my content, I can have a good time, and then my audience members have a good time. And guess what – we can remain professional, discuss complex topics, and bring our passion and personality into the room. Take your content and the audience seriously but don't take yourself so seriously. That amps up the anxiety and will get in the way. No one cares if you flub a word. Roll with the bumps and speak about things that make your heart sing.
What a perfect note to end on. Thank you, Marci.
To learn more about Marci Evans visit her website marcird.com.
Follow her on social media: Facebook @marcird, Twitter @MarciRD, LinkedIn @MarciEvans, Instagram @marcird, YouTube @MarciEvans, and  Pinterest @marcird.
Speaker Spotlight on Dietitian Speaker Marci Evans