Spotlight on Dietitian Speaker Deanna Segrave-Daly
Talking with Deanna Seagrave-Daly about her speaking career is like drinking from a fire hose – her ideas and strategies bubble up and out in a fountain of enthusiasm. Read on as she shares her best tips with DietitianSpeakingGuide.
DSG: You have so many talents! How did you whittle it down to a Unique Speaking Platform?
DS: My theme is that healthy food should always be delicious. I approach it by talking about food and cooking, weaving in good health through flavorful and delicious food. It's sort of a stealthy approach to nutrition. We eat for flavor and with our eyes, and then P.S. there's the benefit of it being nutritious. If it's healthy but not delicious, that's going to be a conflict. So whatever I recommend, whether it's Healthy Kitchen Hacks to speed cooking or nutritious ingredient substitutions, everything I recommend either maintains or boosts the flavor.
I wrote two cookbooks on the Mediterranean Diet, so when I speak to dietetic associations I talk about the diet and the research behind it, and I really dive into actionability. How can people implement this in the kitchen? Not just the messages – eat more fish – but how do you physically do that? What are specific ways you can buy fish and store fish and cook fish so it tastes delicious, even if you think you don't like fish.
DSG: How has your speaking career evolved?
DS: It hasn't been a straight line at all. In the past I've done the more traditional sort of speaking to audiences in person, through television, radio and print. And then as nutrition communications moved online, I had to get good at blogging, SEO, food photography, every new social media platform. Whatever I learned, whether it was my formal education or on-the-job training, I figured someone else needs that information, too, so these new skills then became speaking topics.
It's good to keep adding new topics because with tech, things become obsolete. I used to teach food photography to dietitians. Now smartphones can take really pretty pictures without even trying. Once I built my skill set, I put together presentations on how health professionals can use live streaming to promote themselves and their business and reach consumers, how restaurants and caterers can utilize Facebook live for marketing. Now I do a lot of live streaming, speaking to people through social media.
I have a Facebook page where my business partner and I speak directly to consumers from our kitchen. Whether it's certain recipes or a health topic or promoting a new healthy cookbook or a seasonal vegetable, the focus is always how to prepare the food so it tastes great and is nutritious.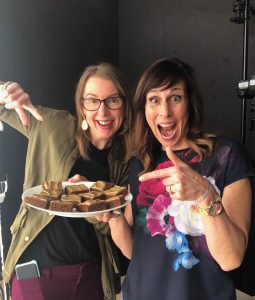 DSG: You seem very business-savvy. Did you ever have an issue charging for your services?
DS: I was lucky – I started speaking in a salaried position working in PR for the dairy industry, so I didn't charge separately. I know lots of dietitians don't have that option, so starting out locally and via webinars is great because you don't have the travel expense even if you're not getting paid much. Ask for an honorarium, because groups tend to have a little something to offer, and in addition to volunteering and giving back, you get your face out there to more people. If you speak in person, staying afterward for a meet and greet can be really beneficial for future opportunities.
My other suggestion is to think about the equity. Maybe at the beginning you're not getting actual cold, hard cash for speaking, but are you getting your foot in the door? As in being exposed to people you might be able to work with down the line, or for pay? Or to promote your private practice or something else on your end? Speaking is a way to promote yourself and your brand, and that's equity.
My cookbook is a great example of that. I may not get paid my standard rate, but they're buying fifty of my books that will circulate among these people and potentially sell more books. With that said, also take in mind how much time it would take to create a presentation because your time is money in the long run as well. And when you get to the point where you're pretty seasoned but the honorarium is still small, ask if you can bring a sponsor in in exchange for a little plug at the beginning. Is there a business out there that might want to be in front of the audience you're speaking to? Pitch it to the sponsor as a win-win, to get their information into a new territory, or in front of their target audience.
It might not be a product. It could be another organization that has money put aside to reach either consumers or other health professionals. The better the match between your sponsor and the audience, the more you can name your price. The biggest thing with all this is full disclosure. My sponsors are usually food commodities or producers that I know from working together, and always a food I believe in. I'll explain why I really I love their products, why I recommend them or use them.
DSG: That's such a cool way to maximize your opportunities – speak on something you're passionate about and help a product you believe in get more publicity.
DS: Exactly. And that's why you should never go after sponsorship from a product you wouldn't work with. Think of a product you love, that you use all the time, and approach them: "I love your product so much! Do you have money in your budget for a speaker? You could be exposed to this many people…"
Keep in mind that if the group you're speaking with is also advertising your speaking, that's even more exposure for your sponsor than who attends the event. It comes naturally to me because that's what I do all day long, but you may not realize how much credibility you bring to a sponsor. As a dietitian, you have a leg up over a lot of other speakers because you have those credentials. It gives a product or organization credibility.
DSG: You're amazing at putting out these ideas! Any suggestions for someone who's struggling with this?
DS: It can be tempting to say a price and then try to justify it, and you don't need to do that. You just say, hey, this is what I charge. Worst case scenario, they say they can't afford it, and then you come back with what can you afford? It's smart to ask for more so that you can negotiate downward if needed. But nine times out of ten they just say sure, and I think, What if I had not asked?
My advice is to say your price and shut up. Stop. Imagine you're a lawyer. You'd say this is my fee. You don't say here's why, because I have to do all this extra work, and then I have this other work… just say your price and worst case scenario, they say no or no way. Then you can decide, do I want to do it for less or is there something else they can give me that's not monetary to do so.
DSG: That's a great way to think about it. Ok shifting gears, what makes an excellent speaker when you're in the audience?
DS: It's so much easier to talk about what makes a speaker terrible! Like not knowing the skill level of the audience. The worst thing a speaker can do is start talking without knowing who they're talking to. I'm sure I'd cringe at my first speeches – I probably had my whole presentation on the slides. Now I'm definitely a believer in less is more.
It's always fun to have visuals, a cartoon, infographics, or just the bullet points. You put a couple of words up and then you enhance them personally. I can't stand when the speaker reads from their slides because it's such a waste of time! You have to make sure whatever you're saying is something they couldn't get from just reading a PowerPoint alone. The less on a slide, the better.
You can always email very specific things after the fact, but you want to use slides more to engage and kind of give a map on where you're going with the presentation. If the person is up there reading the slides word for word, why are they even there? I always appreciate having expectations set up front, so I know where we're going. I like when speakers repeat the main points to drive them home; when they say a couple of times during your talk, "If there's anything you take away from this talk, I want you to walk away with this nugget…"
If you're an audience member and you can be engaged somehow, that's huge. So interactions as much as you can, even if you're virtual. Having a moderator, show of hands, opinion polls. Then to be accessible. I always appreciate the speaker's email or contact info. I think if you're speaking, you should be open for audience members. You should want them to give you feedback, whether it's constructive or positive. That's the whole point.
If you were there talking about something you're passionate about, I would hope you want people to reach out to you afterwards. Then lastly – and it's something I've learned over the years and I haven't always done it -is getting that feedback. I would love your feedback, whether the good, bad or the ugly. You'll never improve if you just do a talk and you have no one tell you anything. I've had to cringe over the years about a few things people said, but it's always been in a way that has helped my next presentation. That's my long list compiled over the years, learning, both speaking and sitting in many, many, many talks over the years.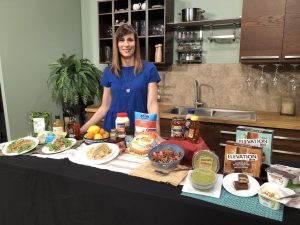 DSG: Those points will be super helpful for our readers. Now let's get even more personal. Will you share one of your most memorable experiences as a speaker?
DS: I was doing this fun TV spot about cheese on Valentine's Day instead of chocolate. It was on CNN and I thought it was going really well, and then towards the end, the anchor said, "I got to tell you, Deanna, I hate cheese, I can't stand it. I think it smells gross. I'm not lactose intolerant, I just don't like cheese." I'm thinking, are you kidding? I just talked to you about how it was sponsored by the Dairy Association. You're sitting here saying how much you don't like it, oh my God.
I said, "I think you're in the minority because I reported that 1.5 million people voted that they would rather get cheese than chocolate on Valentine's Day," and I moved on from there. But it still shocks me to this day when I think about it.
DSG: How did you learn not to let unexpected things like that throw you off?
DS: I think it's my media training. It helps me remember I may have one person in the audience who disagrees with me, but they're only one person. I realize I'll never please everyone. I'm speaking to many, many, many people and the one person who disagrees is not my target audience.
DSG: Well said. What other advice do you give to new and aspiring speakers?
DS: There are so many more opportunities than ever before to get into the world of speaking! I'm from the dinosaur age when you could do a talk in front of people and that was it. Now you can podcast, live stream on social media – you can create your own platform instead of waiting for someone to invite you. It's amazing what you can do on your own! And if you don't think it was great, just delete it.
DSG: This has been absolutely fabulous. Thank you, thank you, thank you.
Interested in booking Deanna for your next event? Visit her website Teaspoon of Spice!
Follow her on Facebook @TeaspoonOfSpice, Twitter @tspbasil, Instagram @tsp_basil, LinkedIn @DeannaSegraveDaly, Youtube @DeannaSegraveDaly, and Pinterest @TeaspoonOfSpice.
Spotlight on Dietitian Speaker Deana Segrave-Daly