Spotlight on Dietitian Speaker Keri Gans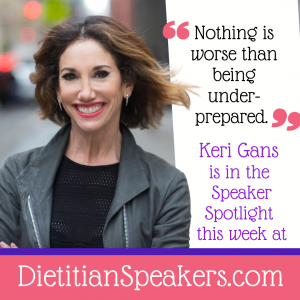 In the 1980's, "Keri is so very…" was the slogan for hand lotion. Now it's a statement of fact about dietitian speaker Keri Gans. She's so very knowledgeable, personable and capable, we were thrilled to have the chance to chat about her speaking career. Read on for her take on our favorite topics.
DS: You're not just a speaker, you're a spokesperson. Tell us about how you got your start and how things changed over time.
KG: I originally started speaking while I was a clinical dietitian. Our hospital wanted a dietitian to give general wellness talks at a community senior center so I volunteered. From there it kept expanding. I started speaking to our outpatients with COPD [Chronic Obstructive Pulmonary Disease], then to larger audiences and in more formal settings.
Being a public speaker is just part of my overall media communications business. As a communicator I share messages through several platforms, including social media, print/on-line media, webinars, and most recently virtual on-line conferences. My topics vary based on the client and the audience. Recent presentations have been on postbiotics and immune health for a client, debunking nutrition myths ("Read Between the Headlines") at Today's Dietitian, and brand marketing ("Seizing Opportunities: How to Use Evolving Science and Technology to Transform Your Career and Brand").
One of the biggest changes for me as a speaker is that I'm actually more prepared now than I was at the beginning. As a new speaker I never prepared a script. Even though I may have done more research, I spoke more off the cuff. The longer I've been doing this I actually have found having a script and rehearsing comes across way more professional. Nothing is worse than being under-prepared.
DS: Speaking of the worst, our readers love to hear about glitches and how to get through them. Anything you do now that you learned the hard way?
KG: Early on a patient approached me after a hospital talk and said I repeated a certain word over and over in-between sentences. He had counted and told me the exact number of times! I don't remember the actual word, but I do try and be aware of ANY word I might be using unnecessarily as a bridge from one thought to the next.
A different time I had a fashion disaster. Bought a new dress for a lecture at FNCE [the Academy of Nutrition and Dietetics Food and Nutrition Conference and Exhibition] and it wasn't until I got dressed in the morning that I realized the security sensor tag was still on the garment! Had to keep my leather jacket on the entire talk even though that wasn't my plan. Thank goodness the room was cold! Lesson learned here – check any new clothes days before packing!
DS: All I can think is thank goodness the tag was on the sleeve and not on the hem! These are both great reminders for our newer and aspiring speakers. What impresses you about a speaker when you're in the audience?
KG: I always enjoy a speaker who tells a story and weaves something personal about their life into their talk. They don't put too much information on slides, but rather share their messages in a more conversational way. I like a speaker who looks into the audience and tries to make eye contact rather than just focusing on their notes.
DS: Fabulous. We keep hearing this from our expert speakers. Don't put too many words on your slides, be conversational and authentic, connect with the audience. It's great to hear you reiterate these key points. One last question: What are your thoughts on evolving from speaking for free to asking to be paid?
KG: It's natural to speak for free when you start, but hopefully it won't take long to realize your worth. As I spoke more, I gradually charged more, based on my level of experience and knowledge. Now my fee is my fee. If someone wants to pay less, they should expect less and look for someone else. If they pay my fee, they get an expert who will deliver.  
Mic drop right there. Thank you, Keri!
If you'd like to learn more about Keri or invite her to your event, visit kerigansny.com.
Follow her on Facebook @KeriGansNY, Instagram @kerigans, LinkedIn @KeriGans, Pinterest @KeriGans, and Twitter @kerigans. 
Have you heard Keri present? Share your comments below.
Spotlight on Dietitian Speaker Keri Gans