Making Dollars and Sense of Nutrition News: Spotlight on Dietitian Speaker Neva Cochran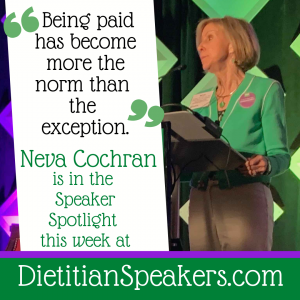 Combatting nutrition misinformation is dietitian speaker Neva Cochran's cup of tea. Read on as she shares with DietitianSpeakingGuide how she infuses media communications experience into her presentations.
DSG: You're such an experienced speaker, it's hard to picture you starting out. Tell us your origin story.
NC: I was the first dietitian in a new hospital where the staff were excited to have a nutrition expert devoted to patients. They invited me to speak to the Breathe Easy Club for chronic pulmonary disease patients, then cardiac rehab and diabetes groups, Internal Medicine staff, an ICU nurses training workshop, a cardiovascular nurses' seminar, and others. As I became known in the area, I was invited to present to students at the two neighboring universities and to a variety of community groups.
DSG: How did you settle on your Unique Speaking Platform?
NC: It depended on the work I was doing and interests I had at the time. I became a state media representative for the Texas Academy of Nutrition & Dietetics, and that led to my first professional presentation to colleagues, "Moving Your Media Message" at the 1986 Texas Academy Conference. That created more opportunities to speak about dietitians working with media which continued after I became a national Academy spokesperson. Combatting nutrition misinformation is a topic I've been passionate about over the years, so I keep updating it. I've had three distinct presentations: Nutrition: Sense and Nonsense; Nutrition News You Can Use: What's Hot, What's Not; and Eating Beyond the Headlines: Sorting Evidence from Emotion.
DSG: How did you transition from volunteer to paid speaker?
NC: The first presentation I recall being paid for was about 10 years into my career at another state Academy's conference. I don't recall the amount, but they offered it to me as the standard rate they paid speakers, and I accepted. That set the stage for being paid for presentations to state Academy groups, but I still presented without compensation for local dietitian and other community groups. Over the past 10 years, being paid has become more the norm than the exception. Once I began consulting with food, nutrition and agricultural organizations, they were willing to sponsor me to speak before professional audiences. Now I'm comfortable asking to be paid because I have a track record of success and am well-known as a good speaker.
DSG: Do you have any advice about charging for a dietitian who hasn't gotten the hang of it yet?
NC: My go-to colleague for pricing advice shared his thoughts with me about getting paid adequately for speaking. When he's offered an honorarium or fee less than he believes is appropriate, he tells the meeting planner, "That's the fee for an entry-level dietitian. I'll help you find one." If they really want HIM and not just any dietitian, they will rethink their fee. My advice to new dietitian speakers (and I just had this conversation with one last week!), is to remind them that the organization is not just paying for them to regurgitate facts and information. They are paying for your knowledge, reputation and ability to inspire an audience in their field of expertise. They have to think beyond just an hourly rate to the value their presence on the program brings – things like drawing in attendees and lending credibility to the organization putting on the conference.
DSG: Yes! There's much more than just the time on stage. The other side of the coin is delivering the value to back up that fee. When you're in the audience, what differentiates the excellent speakers from the so-so?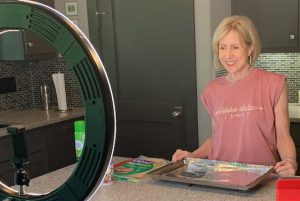 NC: The ability of the presenter to capture the attention of, engage with and keep the audience's attention. Might I even add, entertain them! Telling stories about your own experiences and those of other RDNs or clients (of course, observing HIPAA regulations!) helps bring a topic and concepts to life. In addition, really knowing your topic and being able to deliver it in a confident and relatable way is essential. Finally, fielding questions well is crucial.
DSG: That's a great subject right there – how do you handle questions from the audience when you don't know in advance what they'll ask?
NC: I make sure I know my topic really well so that I can answer most any question about it, and my media training helps me define the most important information and distill it down to the key messages.
DSG: You seem to be ready for anything. How do you handle when things go wrong?
NC: Travel delays even within the state can be an issue. I've become adept at walking in right at presentation time and getting started. Audiovisual problems are the most common – audio from another session coming through the speakers, projector incompatibility, video won't play, there's no screen to project onto. Once in a restaurant I took a painting down and projected onto the white brick wall. I just persevere and make it through.
DSG: What has been your most memorable speaking engagement?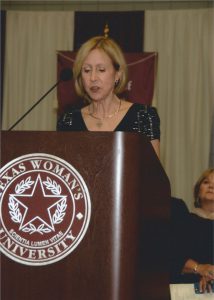 NC: I was so honored to be invited to be the commencement speaker for the Texas Woman's University College of Health Sciences in May 2016. My topic was "Make Opportunities, Take Opportunities, Walk through Fear."
DSG: Wow, a true career highlight, and what an inspiring title. Thank you for sharing your path with us.
Have you heard Neva Cochran speak? We'd love to read your comments below.
To learn more about Neva, visit www.NevaCochranRD.com.
Follow Neva on Twitter @NevaRDLD, Facebook @NevaRDLD, Instagram @nevardld, LinkedIn @NevaCochran, and YouTube @NevaCochran.
Spotlight on Dietitian Speaker Neva Cochran