Media guru Bonnie Taub-Dix has mastered multiple forms of communication – including speaking to live audiences large and small, on-site and online. Read on as she shares lessons learned about leaving room for spontaneity and things that matter more than money.
DS: You're a very accomplished speaker in addition to your extensive media work. Tell us your origin story.
BT-D: I started speaking to small groups when I was a clinical dietitian. From patients being discharged to dietitians in my department to doctors at grand rounds.
Around that time, I received the Recognized Young Dietitian of the Year Award from the Academy of Nutrition & Dietetics and that led to an opportunity to present to 1,500 people at FNCE [The Academy's Food and Nutrition Conference and Exhibition].
I remember hearing advice from others to help squelch my public speaking fears like, "Make believe you're speaking to only one person," "Picture your audience naked," "Just talk to the clock in the back in the room," and so many other tips that I have grown to find useless.
Since then, public speaking has helped me immensely in my career — it is a skill that is so worth honing and perfecting. Speaking helped me build my reputation so that brands, organizations and clients requested my services to enable them to get their particular messages across in an impactful, effective manner.
Today, I've evolved to be a presenter who speaks to an entire audience, looks around the room and pictures audience members wanting and needing to hear my messages…fully clothed!
DS: How have things changed for you in the COVID-19 era?
BT-D: The past year has brought unpredictable and atypical speaking opportunities. Speaking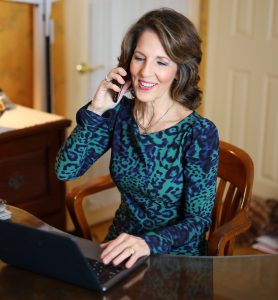 engagements that were scheduled pre-pandemic morphed from in-person appearances into Zoom calls, webinars, Radio Media Tours and Satellite Media Tours — all challenging in their own ways.
Pivoting from speaking in TV studios to speaking from home required acquiring new lighting and audio and video equipment as well as rearranging my home environment to welcome video viewers.
As a media trainer, I counsel others to know that whether you're presenting on a stage to a group of 2,000 or you're sitting in front of a screen talking to 10 people, you still need to be engaging, informative and available to your audience. So that's what I continue to do, no matter the setting.
DS: Take us through your process of deciding how to charge or whether to speak for free.
BT-D: Let's take a look at "speaking for free." These days I get paid well for my speaking engagements, but there still are times when I may give a presentation without being paid for it — but that doesn't mean it's "free."
Whether it's speaking in front of an audience or writing for a publication, these days, I consider "free" work as part of my marketing budget. For example, when speaking to a group of journalists or brand managers, or to RDs who are interested in working with the media, the value of the opportunity to get in front of those audiences could be worth more to build my brand and my business than the amount I would have been paid in cash for that engagement.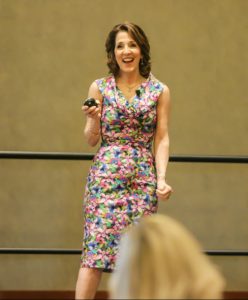 As dietitians, we deserve to get paid for our worth, and there are many RDs that need to embrace their importance, but it's not only money that has value.
DS: How do you know when you've done a great job as a speaker?
BT-D: Although it's important to be prepared, including practicing a seamless presentation, it's essential to leave room for some spontaneity. Excellence in speaking doesn't mean making people listen to you – it's essential to help your audiences think and feel and dig deep into their own personal experiences. There's a tremendous sense of satisfaction knowing that you can move scores of people with just your words…all at one time.
My best presentations include those when the audience laughs when I want them to, shakes their heads in agreement with what I'm saying, asks questions that show they understood what I was talking about, and wants to learn more about me and my topic. I also love when people come up at the end of my sessions to tell me how much my words and my work has helped guide them.
DS: Any regrets, looking back?
BT-D: One of the worst presentations I ever gave was for a group of businessmen at a country club that was preceded by a happy hour (including too much alcohol for the attendees). The group was rowdy, and the hecklers of the bunch made me feel like my presentation couldn't end soon enough!
In the past, I wish I put less information on my slides and just relied on pictures and clever sayings to allow for more spontaneity and to allow the audience to hear what I'm talking about instead of reading while I was speaking.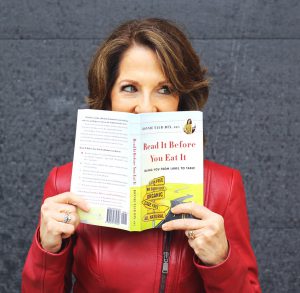 And although I still get the jitters when I speak in front of certain groups or when I talk about certain subjects…I wish I had felt more confidence back in the day. Confidence comes across in your voice and it helps to boost credibility and expertise. I've found that when I coach RDs about how to work with media, it's confidence that they lack more than anything. After being in this profession for decades, sharing my personal and professional evolution with RDs is perhaps the most rewarding role I play.
DS: Thank you Bonnie for sharing your journey. To learn more about Bonnie and her services as a media coach visit her website at BetterThanDieting.com.
Follow Bonnie on social media: Instagram @bonnietaubdix and @BTDmedia (specifically for RDs), Twitter @eatsmartbd, Facebook @BonnieTaubDix.RDN and @BTDMediaGroup, LinkedIn @BonnieTaub-Dix, and Pinterest @BonnieTaubDix.
Better Than Dieting News Digest: bit.ly/BTDsubscribe
BTD Media Makers News Digest: bit.ly/BTDmedia (specifically for RDs)
Master Course: bit.ly/BTDMediaCourse
Have you heard Bonnie speak? Share your thoughts in the comments.