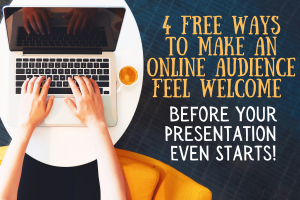 If you thrive on the excitement of public speaking, presenting online can feel impersonal and even lonely.
You don't have the instant feedback of audience reactions, you can't gauge the energy in the room or make eye contact, and it's a challenge to recreate the enthusiasm you feel in front of a live crowd.
Attendees of a virtual event can feel equally detached. Instead of trading their daily routine for a live, attention-grabbing event, they're watching a screen with all the distractions of home or office or coffee shop around them. There's no excited buzz of anticipation from other attendees, and if it's a large group, they're probably painfully aware of their status as a tiny square on your screen – or even worse, just a number in your head count.
Next time you're prepping an online presentation, consider how you can bring warmth and personality to the technological aspects of the event. I pooled my ideas with suggestions from Rebecca Morgan, who does coaching and master classes on enlivening virtual meetings. Each of the ideas below can help attendees feel valued and welcome from the get-go, and none of them costs a cent.
Pro Tip #1: Personalize the Passcode
Using the random password auto-generated by your platform sends a message – the message that no one cares.
Instead choose a code that sets your desired tone – a word or phrase that relates to your topic, your business name, the sponsor, or something inspirational like "ExcitedToBeHere!" or "RDsRock".
Pro Tip #2: Invite Information
In your confirmation letter, ask participants to email you back a photo with a few lines about their work experience and what they hope to learn from the event. Compile the responses and print them to review in advance and refer to while you present. (An easy shortcut: send a blank slide template with space for a pic and prompts for the information, then compile the responses into one document.)
Of course this will help you target your talking points, and it benefits the general vibe of the event, too. It sends the message that you want to know more about your attendees than just their screen name, and that you're interested in meeting their needs.
You'll be able to call on participants by name during your talk, or refer to something they mentioned, both of which increase the relatability of your speech versus using random examples or pleading for volunteers.
If your presentation is a longer-term event, such as a week-long workshop or ongoing course, or alternately a short event where they need to get comfortable with each other ASAP in order to be productive, consider asking participants for permission to share their bio and photo with others. (Set a deadline for submissions so that you'll have time to compile the doc and send it back out before game time.)
The ability to review this info in advance and refer to it during your presentation will ramp up familiarity between participants, help them feel more comfortable sharing their challenges out loud, and improve productivity in partner activities and breakout rooms. It also saves all the time and annoyance of asking people to introduce themselves live when they'd really rather hear from you.
Pro Tip #3: Make Waiting Welcome
Insert a slide at the very beginning of your presentation that includes:
The title of your event and your name
A welcoming message from your host or you personally
A list of materials the participants need or might want to have handy (with links to where to get them if appropriate)
Instructions on how to submit questions and how/when they will be answered
Instructions for getting technical help during the call
Tips that will help them use the platform
Any prompts or questions you'd like your audience to be thinking about
10 minutes before the official start time, load your presentation to the first slide, share your screen, mute your computer, and click Start.
Now participants who log on early will know they're in the right place at the right time, instead of seeing the generic "The meeting will start when the host arrives" message and worrying about it. You've rewarded the early birds and even encouraged others to log on early for your future events.
Pro Tip #4: Don't Take Privacy Personally
Accept that there are many reasons people don't turn on their cameras, and none are about you:
Embarrassment about a modest or messy living situation
Family members or housemates with poor interpersonal boundaries
Didn't feel like getting dressed just to sit in bed and watch you talk

Simply wanting to keep home life private

And yes, sometimes multitasking while you speak.
Let it go, and definitely don't judge or nag. Criticizing an attendee who just wants to listen is a sure way to make them feel unwelcome.
It's so worth it to spend a few extra minutes warming up the typically sterile virtual environment. I'd love to hear what you do when you present online to help your audience feel welcome.