Spotlight on Dietitian Speaker Denine Rogers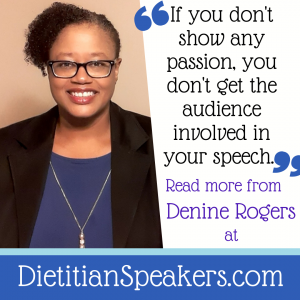 AC: Let's start out by telling me a little bit about your current speaking focus and how speaking fits into the other work that you do?
DR: Right now, I've been hired to do speaking on different subjects, such as dealing with diversity and inclusion, which is good because it's very much needed. But along with this, I've also been doing a little bit more of integrative functional medicine speaking engagements, which is more of my passion. I've been trying to combine both – showing the influence of those different cultures within the integrative functional medicine profession. Since my private practice is based on integrative functional medicine, I am trying to look at doing more of those type of speaking engagements, but along with giving a cultural awareness of why this profession is very important and the cultural aspects of it.
AC: Can you tell me a little bit more about the integrative functional medicine aspect?
DR: Yes, integrative functional medicine is sort of new. A lot of people think of it as CAM – complementary alternative medicine – but it's different. It is evidence-based. We do take inspiration of allopathic medicine, which is the traditional medicine that a lot of us dietitians went to school for. We also focus on learning about the patient as a whole, not as individual parts, meaning if the person has a cold, a lot of times in allopathic medicine, we treat just the cold, but we don't really treat what causes the cold. In integrative functional medicine, we ask how is the person's lifestyle affecting the cold or how is the person's spirituality affecting the cold, or how is the person's physical health affecting the cold? So that's the integrative part; it looks at the person as a whole. Then the functional part is dealing with food, how more of a natural approach can help in healing.
AC: That's awesome. I've heard of integrative functional medicine, but not really in-depth. I'm glad that's coming more to light because I think that could be super beneficial.
DR: Yes. We do have an Integrative Functional Dietitians practice group within the Academy Nutrition and Dietetics. So definitely go on their website because they have lots of information explaining more about the profession. They're a really great group that I've enjoyed being with.
AC: Fabulous! How did you get started speaking and how has it evolved over time?
DR: I started speaking through volunteering at my hospital job many years ago, as part of what they called a health care team. I was the only dietitian there with social workers, physical therapists, doctors, and nurses as part of the team. I was able to speak with different business accounts within my hospital, talking about wellness in general and nutrition. And while I was doing these speaking engagements, I found out that I was really, really not that good at speaking.
When I did my first speech, I was not only scared, I was not prepared. I read off this piece of paper. Nobody was listening to me. I asked for any questions at the end and it was dead silence. Some people were just working on their cell phones and didn't even lift their heads up. The worst part was the evaluations. People said it was boring and uninteresting and someone went further and said, Why did she bother to show up? So since that time, I have grown. I realized, OK, this was not a good speech.
On top of that, I was always scared. I was fearful. And I was like, "Oh, gosh, you know, sometimes I regret even signing up on doing this." So, I really needed to learn more about speaking and try to find a way in or to a group that I could be a part of that can help me with that.
My boss and a couple of people at my job noticed I was struggling. One of them told me about the group called Toastmasters, and I didn't even know that they had it at my job. They would convene and have meetings during lunch time, which was great, because that was really the best time for me to go there, bring my lunch and then learn about what skills that I can acquire and also learn about how to speak correctly and also to captivate an audience. So I went there and it opened up a lot of doors for me in learning about speaking and learning about how to create a speech. It also helped me with channeling my fears of speaking and learning the appropriate way to deliver a speech. I'm still learning and I'm not going to say that I'm a perfect speaker, but I have become much more confident in my delivery of speaking. I also became a lot more confident in my controlling my fears when I do speak. I'm not as fearful or having night sweats the night before anymore as I used to be.
AC: What a great opportunity that Toastmasters was right there at your workplace. And that's great to be able to look back and see how far you've come!
DR: Yeah, it was it was rough at first, but I totally enjoyed the Toastmasters groups. They went through a lot of re-organization and they no longer could have the group anymore. That bummed me out, but I learned so much from it. I was able to complete the first level, too.
AC: Can you explain more about Toastmasters and what the first level is?
DR: I was able complete what they call the "company competency speaker." That's the first level. I found another Toastmasters group here where I live in Douglasville and I did theirs for a little bit until I had to work on the weekends. I had to start all over again, and I completed the competency speaker there, too. They have different levels of where you can go up. I haven't had a chance to do more than level one, but I would like to go back and try to move myself up to more levels and learn more.
Toastmasters is worldwide. They have different groups and leagues and worldwide conferences. They've been around since the 1930s. It was started with executives of different corporations, but they realized there were a lot of people who weren't executives who wanted to learn how to speak and be professional. I think they have over a million members.
You could find one in neighborhoods that you never even knew of. There's one in Amish country and another one in really, really rural Africa. They call them clubs, and there are different clubs and different organizations within the clubs.
That's how I was able to learn a lot. Now that we're talking about it, I'm thinking about going back. I think they're now doing virtual meetings because of Covid. I think it's a great opportunity for everybody to do.
You learn a lot and you develop relationships. Not only that, your group listens to your speeches when you do them, and at the end they evaluate you. You really get that hands-on evaluation to learn, okay, what are you doing wrong? What can you perfect? What could you have done better? It's really good because it allows you to see through the audience's eyes. They automatically evaluate you right then and there.
Something that really helped me is when I learned about the three P's; prepare, practice and present. The first thing I learned is I need to prepare my speech. It's much more impactful that I know what I'm discussing. I didn't want to be looking at my notes all the time. I wanted to make it more engaging and have more passion in my speech by practicing.
Another thing I noticed is that when people do different reflections of their voices, the audience can get people more engaged with the speech. Changing your voice makes the person realize, oh, okay, this must be a different part of the speech that they're talking about. If I do a dry run of my presentation, having someone that is physically there is really helpful. They can evaluate my speech and suggest places to reflect my voice differently.
AC: What else keeps your attention when you're in the audience? What factors did you evaluate highly?
DR: Well they have to be engaging storytellers that show passion about their work. Giving a story helps people of different backgrounds stay tuned in. And if you don't show any passion, you don't get the audience involved in your speech. If you don't have passion in your speech, a lot of people just tune you out. Passionate speakers impact beyond the 60 minutes they're speaking. People may use something from the speech in their lives, they may tell their friends and family, they may videotape a segment of your speech to show or post if it's really influenced them.
AC: Thank you for sharing that. Ok now switching gears, tell me your thoughts about dietitians getting paid to speak. Was asking to be paid challenging for you?
DR: Yes, it was challenging. I was able to make that transition when I opened up my private practice while working. I still am working full time and I still have my private practice. Through my private practice, I was able to negotiate fees for my speaking experience on topics that I knew. When I was working just my full-time job, people didn't see the value of paying me for speaking because they felt like I was doing it through my job. Now I'm in private practice people realize it's more appropriate to expect to pay. When I did start asking for payment, my problem was to make sure I'm not asking for too low or high of an amount. Negotiating my first speaking engagement was challenging to not feel guilty for what I asked for. I don't want to lowball because it hurts the other person who comes in behind you. You try to explain about your experience and everything, but they may not see the value of it. It's important to do research. So many times I see many fellow dietitians request money to speak that's a lot lower than our competitors, but then those who don't have the experience get a higher amount just because they request a higher amount.
We sometimes feel that we don't deserve a higher amount, but we have the education and experience and we should be paid top dollar. I have one friend who is a speaker and she told me that she was paid a thousand or more for speaking engagements and I was like, Wow, that's a shock you can do that. And she said she found out that a lot of people who are just quote unquote nutritionists with a little three-month degree or certificate saying that they're a specialist can get paid much more than I am. That's why it's so important for us to not settle for less when we get our foot in the door. I'm beginning to realize more and more that I should request top dollar because of my experience, because of my expertise in what I do. And all of us dietitians should because of the schooling and everything we have in our background. We should be expecting more. Our competitors don't have our knowledge and they're getting a thousand dollars or more for speaking for one hour or even less. We dietitians need to change our way of thinking when it comes to payment. I'm learning myself, too. Why settle for less? Ask for top dollar and then try to wiggle down to where you really want to be. Ask for the top one that you aspire and then go down if they want to go down, or not if you really feel that it'll be best that you don't go down.
AC: Do you have any advice for a dietitian who might be new to speaking and is feeling insecure about expecting to be paid?
DR: I would say to do their homework and research before accepting any type of pay for speaking. I think that having that homework and research and knowledge and background about how much you expect to be paid will help out a lot, because it allows you to negotiate a lot better. These corporations may not know what in the world we do and they may not know how much of a benefit that we can be, particularly speaking to their clients or speaking to their employees. It's good to learn about the company itself. If you're able to do research about that company and say, I see that your employees are having issues with certain health concerns, this is what I can discuss, and this is what I usually charge. With Google nowadays, you can research everything. You can really get an idea of who you're going to be speaking for and you can also get an idea of how much revenue that they have, too.
AC: Interesting point. Thank you. Reflecting back on your speaking experiences, does anything stand out as an important learning experience?
DR: Yes! Once for an herbal medicine speech I decided to convey the way that herbs impact different people differently by getting everyone to sample some ground ginger. Most dietitians don't know what an herbalist does, so I thought this is a great way to get the audience involved and give them a physical understanding instead of just talking about it. I had small containers for hot water and ginger and some friends to help pass them around. I expected about 50 people but 175 came. I had to get extra hot water from the hotel and my friends were constantly pouring the water and passing out ginger while I'm speaking. We had enough and everybody had a chance to be a part of the taste experience. But then I asked for people to share their thoughts some people felt the ginger was cooling to their body and some people felt that the ginger was hot to their body. There were so many questions! I ran over time. The whole experience was really stressful. I did not want anyone to have a bad reaction to the ginger, it was hard to manage all those people especially when I wasn't expecting them… but I did receive a lot of favorable comments and no one sued me for their bad reaction to ginger. It worked out that time, but I wouldn't do that again.
AC: Wow that sounds overwhelming! Any last advice to share with a newer dietitian speaker?
DR: It's definitely a learning process. Constantly learning. I'm learning still to this day about different ways of speaking. I look at other speakers and see how they're able to present their speeches and what they do. I feel like you'd never, ever say that I've learned everything. It's just a constant learning curve. And you will constantly learn more and more about being a better speaker.
AC: Yes, we all keep learning and that makes it exciting. Thank you so much Denine!
To hire Denine for your next speaking engagement, visit her website at www.livinghealthy1.org
Email: [email protected]
Phone Number: 678-741-5338
Follow Denine on social media: Facebook @LivingHealthyMe1, Twitter @LivingHealthyMe, LinkedIn @DenineRogers, and Instagram @livinghealthyme1.