Speaker Spotlight on Dietitian Speaker Amy Goodson

Dietitian Speaker Amy Goodson radiates personality – enough to light up a room when the power goes out in the middle of her presentation. Read on as she illuminates us on her path to star status, how she turned a green screen into gold, and tips for igniting YOUR speaking career.
AC: Tell our readers how you got your start speaking and how your speaking has evolved.
AG: I've always loved speaking in public. Growing up I was in pageants at church and plays. My original degree is in communication, and then I stayed in school to get my master's degree in sports nutrition and become a registered dietitian.
I've always done a lot of public speaking in my career. Right out of school I immediately got hired by a sports medicine facility where I really got a ton of opportunity to speak because I was being used as a marketing person for the facility. We worked with tons of high schools and sports teams, so I would go out and do talks to schools, parents, coaches, athletic trainers. So speaking was built into my job. It was such great experience.
And even though a lot of speaking was built into my job, I did a lot of over-and above stuff, too. Like speaking to a nine year-old's baseball team at seven o'clock at night. So a lot of my speaking wasn't just baked into a nine-to- five job. I took every opportunity I had to speak, whether it was popping up to a company at seven a.m. or talking to a little baseball team at nine o'clock at night or doing stuff on Saturdays or whatever it was. I just said yes to everything.
I also worked with the executive health program in the same facility. We contracted with companies to see their executives, kind of like concierge physicals. And I was able to do a lot of speaking at some of those companies. I really got to include a ton of speaking through that job, which allowed me to really develop a name for myself, I would say, in the speaking world.
AND I started speaking for some larger groups outside of work like the Gatorade Sports Science Institute, Verimark, the National Security Council.
When I started working for myself at the end of 2017, I already had so many contacts from the first 11 years of my career, especially here in the Dallas-Fort Worth area. I also will apply to speak at conferences or whatnot, but a lot of the way it's really evolved in my own business is from my experience and past experiences of speaking where people are referring to me and people are reaching out to me to speak. Those same people I had spoken for through my job kept contacting me. And then, of course, I just evolved because more and more people get to know you, especially when you speak at conferences and those types of things.
Speaking is now about a third of my business, and it's really my favorite thing to do. I still do a lot of speaking in the sports nutrition role, whether that's with teams or at conferences or to school groups or whatnot. Another speaking area is general health and wellness to the everyday person. And then I do some speaking about the entrepreneurial side of being a dietitian, based on some of my experiences and creating my own business.
AC: Amazing. You said you got paid to speak as part of your job – was there a transition when you started your own business and you had to specifically ask for a payment?
AG: Now the outside of work speaking that I did, Gatorade and Dreambox – I was already getting paid for those. Those large companies just naturally pay speakers.
With the speaking I did as part of my job, it was more interesting. Here I am with this salaried, full-time job, getting paid as part of that job to speak, but we weren't charging the companies or schools I spoke to. It was more me marketing, representing our business. Over a decade, I was speaking to them – from their point of view – for free.
I had to explain to a lot of the schools that I can't speak for free anymore. There wasn't really an option. If I was going to speak after I left that job, I had to get fees for my business. Luckily my reputation preceded me, so to ask to be paid wasn't that big of a deal because they already had a point of reference for me as a speaker. A lot of them were people I knew or people that had been referred to me by someone who recommended me. I found they were pretty understanding.
I had to explain to a lot of the schools that I can't speak for free anymore.
AC: What about now? How do you decide what to charge, and do you ever speak for free anymore?
AG: Back in the day I said yes to everything, but at this stage it's different. I remember someone wanted me to do a cooking presentation with recipes and cooking demonstrations. And they said, we have one hundred and fifty dollars. I can't do it because that's hours of work. If it's me doing a virtual talk and I can do it for free, I will.
There's a high school boys and moms' service organization I speak to for free. And I spoke for the American Heart Association off and on for years for free. There's an aspect of that that's community service. But for the majority of the time, I would say 95 percent of the time, I now get paid.
As far as how to charge, I had to evaluate what am I going to charge to speak at a conference versus a company versus what am I going to charge locally versus what am I going to charge schools… Because schools by default are not going to have the same funds as a big company. So that was a little bit of a stretch in my way of thinking.
I live in Dallas, Texas. There's big companies that are going to pay. But I also evaluate my benefit analysis, There's times that I might be willing to speak for a little bit less because I want an opportunity to speak with that company. I might be willing initially to accept a little bit less because it's going to open up more doors for me.
There's a group that flies me to their conferences and I speak five times in one day. Typically I would charge more than what I charge them, but that's all they can pay. And they call me every single time they do one of these events, so while I might be making a little bit less, I'm doing it almost every month now. I have such a great time seeing that the participants are so interested, it's a great experience, and very organized. I weigh those things out as well.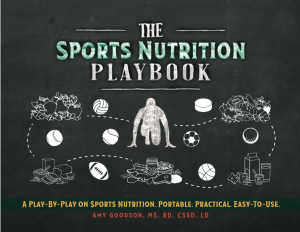 I also found another way to get paid for sports nutrition talks when schools don't have the money to get me out there in person. I created four presentations and recorded them in front of a green screen. I paid to have them well produced, and I sell them on my website now. It's way cheaper than bringing me to a school. And they have access to that presentation for a whole year.
And of course, there was an investment up front to get those made and produced and on my website, but long term, it's a great way for me to make passive income and get to still make my mark without me actually having to be there.
AC: Do you have any advice for a dietitian who's feeling insecure about expecting to be paid to speak?
AG: My initial reaction is I feel dietitians should get paid to speak. If you have experience, then you should be able to ask for payment. You need to be charging. But you also need to weigh things out.
I don't do a lot with clients, but if you're seeing clients on a regular basis, you might speak with a goal of getting clients, where you volunteer or charge less. If you walk out of there with ten people contacting you to be your client, your ROI [Return On Investment] was much bigger.
For people that have a book to sell, are they going to let you sell your book when you're there? That might be a whole other avenue to make more money or to make up for what you're not making from a speaking fee. Those are things I would consider.
If you've never really spoken before, you need to get experience, like with anything, to get good at it. You have to have somewhere to practice. If your kid or niece and nephew has a soccer team, or if you're in a church group, could you talk to them about nutrition to gain that experience? To build your experience, take all the opportunities regardless of pay. Volunteer to speak at your local dietetics group, other small groups, and branch out from there.
If you think you should automatically be paid but you have no reputation or experience, that's going to be more challenging. When someone's paying you they're expecting you to be good at what you do. Putting in some time, whether it's volunteering or presenting as a part of something else you're involved in, would be helpful.
People only see what I do now. They weren't there for the hundreds of talks I did on Saturday morning and at eight o'clock after baseball practice and going to church group crockpots. I mean, I just said yes to everything. I was not getting paid but it built my experience and I got good at talking to all different types of groups. I happen to love speaking. And so it didn't really bother me because I knew I was building a resume and my goal was to say yes to everything so that one day I could say no to what I didn't want to do.
My goal was to say yes to everything so that one day I could say no to what I didn't want to do.
AC: It sounds like you've reached that goal. You're very inspirational. Switching gears, tell us what you think makes an excellent speaker from your point of view?
AG: Excellence to me is if someone who knows their information so well that they're not really thinking about what they're saying, they're thinking about how to say it best to the audience in that moment. Those speakers don't just provide information, they make it really relatable. That's where I think you get the biggest impact because people are more likely to connect to you when you're speaking. I've noticed it the most with younger speakers and interns, that they focus so much on what they're saying and what the information is, they're not paying attention to the audience or adapting if the audience isn't responding.
Being a good speaker also means being a clear communicator, not using filler words, and being able to communicate concisely. Dynamic speakers resonate with people; they're more engaged with you. All of these things you can develop over time.
But the biggest thing is being able to connect with people, with the information that you're providing them, and giving information in such a way that they can relate to it and apply it. Because it's one thing to have information, it's another thing to feel like the information is applicable to you.
…it's one thing to have information, it's another thing to feel like the information is applicable to you.
AC: Any suggestions for how someone can develop those skills?
AG: Absolutely. There's no other way to do that but to practice, by just doing it over and over and over again. The further along you get in your career, whatever you speak on, the more you know your information. It becomes easier to present that information in a different light based on who you're talking to, and the more the more experience you have, the better you're going to be at answering questions, the better you're going be at giving examples.
In the meantime, it's great to watch other speakers and think about what engages you as a listener, then check to see if you do that or not. Challenge yourself to see if you can get through an entire presentation without using a filler word. You can also record yourself presenting on your phone and watch it to see what you want to improve.
If you ever have the chance to do any media-related trainings, do that, because a lot of that translates over to public speaking. Media is a like a two- or three-minute presentation. That training can overlap. But honestly, the main thing is repetition. Because anything that you do over and over and over again, once you know that information so well, you can start to manipulate your presentation of the information in the best possible way for your audience.
AC: Is there anything that stresses you out as a speaker? Do you worry about things going wrong?
AG: I'm not a nervous speaker by default because I like speaking and it's something I've done for so long. I'm confident in my knowledge of the information. I think people can sense when you're not being confident in the information that you're providing.
Newer speakers might be nervous about what they're saying or how they're saying it, or what someone is going to ask them. I'm at the point now that normally I know the answer to the questions that I'm being asked, but if I don't, I can just say, "I'm not really sure about that. But if you'll share your email, I will find out for you." In my earlier days, I may not have wanted to do that.
AC: Out of all your speaking engagements, is there an experience that sticks out in your mind?
AG: The most interesting speaking experience I've ever had was a few years ago I was invited to do a sports nutrition training for a company in the Middle East. I went to Beirut, Lebanon to do two trainings and there were two days in between where I was on my own. I would have never thought I would go there and stay at a hotel by myself!
I spoke to one hundred dietitians, I think all women. They all speak English, but English it's at least their third language. If you go to college in the Middle East, you pretty much speak Arabic first, then you may also speak French and English. So here I am speaking to a group where English is not their first or second language, and none of the examples I use make sense over there. A lot of my gestures don't make any sense because they have no connotation or reference for them. None of our slang makes sense. They had no clue what I was referencing when I said you hang carrot in front of someone.
And I'm talking about sports nutrition, but they don't really have sports teams there.
So it was a big challenge to translate the information – not literally translate, but explain – to people in the country that I've been in for twenty-four hours, that I really don't know a ton about the people or their totally different experiences, that can't relate to the things I usually say…
On top of all that, in Lebanon the electricity cuts out every single day, no matter what. At least one rolling blackout every day. It might be for 10 seconds or it might be for five minutes. One of the days I was speaking, the electricity went off for three minutes so I had no projector, no PowerPoint. They're just used to it, like, "Oh yeah, the electricity goes out every day. No big deal."
But even with all those barriers, the dietitians were all so involved, so hungry for the information. They would question, question, question. I would really have to think through how I should answer that for their situation. It challenged me more than usual because speaking is generally pretty easy to me.
I've now been to the Middle East six times, in five different countries. After that first experience, every time I went to a different country I knew to ask questions about their experience to help my frame of reference. And I noticed each time knowing more about the culture helped so much in making my points. So that's got to go down as the most interesting. They've all been interesting, but that first time was so unique, it was a phenomenal experience.
AC: I can't even imagine going and speaking in another country and how exciting and challenging that was for you. You've shared so much great information – thank you so much, Amy.
To hire Amy for your next speaking engagement visit her website amygoodsonrd.com.
Follow Amy on social media: Facebook @amygoodsonnutritioncounseling, Instagram @amyg.rd, LinkedIn @AmyGoodson, and Twitter @amy_goodson_rd.