Spotlight on Dietitian Speaker Yaffi Lvova
Yaffi Lvova's mission is creating more joy, connection and tolerance – with both food and other people. Read on for her take on all the feelings of the past 18 months, how she feels about asking for $$, and the ups and downs of her speaking experience.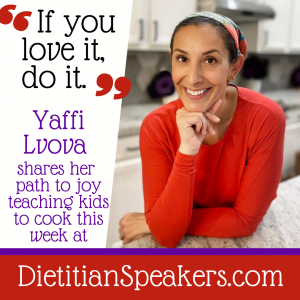 AC: Tell us about your evolution as a dietitian speaker. How did you get started presenting?
YL: I started speaking first in elementary school, in 5th grade, and it really helped shape me even at that young age as a speaker – I got interested in how to communicate topics in a way that resonates with people.
As a dietitian, I started out speaking mainly on pediatric and family nutrition around your basic concepts like selective eating and focusing on how families can increase joy at the table. Scientific facts don't necessarily resonate with the public unless they're delivered in a way that's digestible, pun totally intended. I like to take that science and shift it into vernacular speech, into easy words that the public can not only understand but will enjoy understanding. That's the way to make it stick the most and to have the greatest effect. And I really appreciate that angle.
Scientific facts don't necessarily resonate with the public unless they're delivered in a way that's digestible, pun totally intended.
I've written a number of books regarding food introduction for babies, as well as ways to make food more fun at the table. And that's why I support that with my speaking, and I support my speaking with my writing, and they just go hand in hand. Prior to the pandemic, one big part of my business was teaching a toddler cooking class called Toddler Test Kitchen, and that's an in-person class.
AC: I've never heard of a toddler cooking class! That's really, really cool. I think that's a great way to get kids introduced to cooking.
YL: Yeah, we have a lot of fun with it. The class is for kids ages two to six and it's very, very focused, unlike a lot of other cooking classes for the same age range which focus more on cakes and cupcakes. I mean, those recipes are much less expensive to make, and the mess can be a little bit easier to control because you have these prepackaged cake mixes, and you don't have a million different ingredients. But I like to take it the other way – we do spaghetti squash as well as baking cookies and we have a lot of fun with it.
I shifted to online when the pandemic hit. I didn't want to risk being a location where people got each other sick. So that class has been shut down for just over a year. I did try to take it into an online space but trying to parent from home and cook and manage all the technological complexities that came along with everyone shifting to online space just was too much. I shifted a lot more to public speaking and writing where I wasn't doing quite as much stuff all at the same time.
My focus has been shifting with world events. As the world situation has shifted, I brought a lot more social justice angles into my repertoire. I have a webinar called Supporting Your Religious Client, which I did with me representing the Jewish side and Dua Aldasouqi representing the Muslim side. We compared and contrasted kosher and halal and gave dietitians tools to help support their religious clients when they themselves might not be coming from the same perspective. To help give them that additional compassion that will increase the quality of what they're giving their patients or clients.
I've also been doing "Ask a Jew," where I just try to answer questions people might have. This has been pretty successful. I think people are really looking for quality information as opposed to short snippets that they might find on social media.
This has been a whole lot of fun for me during COVID with that aspect being able to have much more opportunities to speak with the public. It's been really great. That's been a great silver lining for this time period.
People are really looking for quality information as opposed to short snippets they find on social media.
AC: That's great that you were able to shift gears like that. Did you ever have to shift from speaking for free to asking to be paid? And do you have any advice for someone who's nervous about it?
YL: That's a really difficult question, because I get a lot of feelings when someone contacts me to speak. First, I feel honored that they thought of me, and because of that, my gut instinct is to do everything for free. Then pair that with imposter syndrome, and I feel like I shouldn't be charging people. Then maybe it's a nonprofit so they don't have a lot of money coming in… all these things make it difficult to set my price. I just had to fake it till I made it. I had to rely on the advice of people who have been doing public speaking longer than I have as far as calculating what my price point should be and sending it out there. And even now when companies contact me or organizations contact me to speak, I am so much more nervous sending that quote than I am getting up on stage or turning on the zoom. That moment is probably the most nerve-wracking that I've experienced in speaking.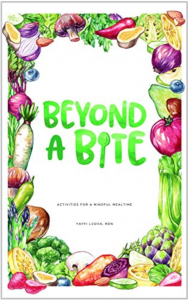 I find it really difficult – to send someone a bill saying, I want you to give me twelve hundred dollars for one hour of my time – because it just seems so unbelievably egotistical. What I have to remember as a dietitian, a speaker and in general is that people are not paying us for the hour that I'm on stage. They're paying for that, but they're also paying for all the experience, for the internship, for the schooling, for any life experience that aided my knowledge of subject matter and my ability to communicate with their audience in an effective and entertaining way. That's what they're paying for. They're not paying for the one hour.
If I think of it as that much money for one hour, it feels really awful. I mean, just as awful as it feels good when they say yes. But to get to that point, you really have to value yourself and value your own knowledge and value your ability to get your knowledge from inside your head and from the textbooks out to the audience and for use in a practical way in a short amount of time. It's a lot to ask, but we can get there with practice. I think it's fake it till you make it and then practice.
AC: Thank you for being so authentic about that. Do you have any advice for a dietitian who's still in the stage of considering speaking for the first time?
YL: I think it's great to do some small group events starting out, but it depends – some people would be more comfortable with people they know, and other people would be more comfortable with strangers. Starting out, I would say first consider that and then try to create an event for yourself that has a comfortable audience in it, whether that means strangers or whether that means familiar faces. That's a good place to start and starting online is also great because we have that that disconnect from the audience. At this point in my career, I don't like that disconnect. Perhaps for someone starting out, the fact that they're sitting at their computer with no one directly looking at them could feel more safe and could be a vehicle to increase their confidence. That's something that they can use until they're more comfortable, until the world opens up a little bit more and there are more in-person opportunities.
AC: Yeah, I think that's a great point, just getting your feet wet at first. What would you say makes an excellent speaker in your point of view as an audience member?
YL: An excellent speaker is engaging. The audience does not have to try to pay attention. The audience member doesn't find themselves checking their phone every five minutes or five seconds. The speaker can get difficult, complex information to their audience in a way that the audience can understand it and put it into practice right away and feel confident with it. Sometimes the audience member is going to have a question that comes up when they try to put this information into practice. The idea is for the audience member to feel engaged throughout the presentation and leave feeling more confident than when they came in. Maybe they're going to enact this practical information right away, or maybe they're going to let it marinate for a little bit first. But they leave feeling like they have a little bit more confidence with that subject matter and they know where they're going to go with it.
AC: So dialing it down from the scientific to what you actually need to know.
YL: That's exactly it, and I like how you said dialing it down rather than dumbing it down, because if we see our audience as a dumb that doesn't help us with our speaking skills either. It's the idea that they're not at a lower level, but rather they have different interests. We as dietitians are interested in nutrition and so we know big biochemical words and can communicate with each other on that level. But when we're speaking to an audience, particularly a public audience, they have lots of different varying interests. Their intellect is in different places. And that's why we need to shift our language to be more open and to be more accessible so that people who are scientists and people who own a knitting shop, you know, whatever interests our audience, they can tune into what we're saying and understand it. That's so important because we can have the best knowledge in the world but if we can't communicate it in a way that our audience will understand and appreciate, it doesn't matter how much knowledge we have, we're not getting it across effectively.
If we can't communicate in a way our audience will understand and appreciate, it doesn't matter how much knowledge we have.
AC: Exactly, that's a great point to make. Anything that you've had to learn the hard way that you wish you had known earlier?
YL: When I was first speaking, I spoke for a group of familiar people, and this is why I say that it's important for the person who is a beginner speaker to understand what's comfortable for them. I had a friend in the audience who is actually a good friend who grilled me and it was just a circular argument, and I did not know how to get out of it, and it was in front of an audience and we were just going in circles and it probably lasted 45 minutes. I swear I could still hear the other audience members rolling their eyes, you know. It was terrible and I didn't expect it because it was from a friend. I thought this would be more of a supportive environment and it wasn't. It was really trial by fire and left me feeling very inadequate and vulnerable and frankly, quite stupid. After that, I signed up for some speaking lessons and learned how to get out of those situations.
AC: That sounds painful. Let's switch to the good moments. What are the positive moments that stand out in your mind and keep you wanting to do this despite the tough parts?
YL: Well in that speaking class I mentioned, we ended the class with everyone giving their own talk that they had developed over the course of the class and certain members of the public were invited to it, including a guy who was very involved in National Speakers of America. I gave my talk and at the end of the class, he came up to me and just said, "You are money."
That felt amazing, just to have a validation from someone who is an expert in this field tell me that my speaking skills were great, that felt really, really good. When I give a talk and I get calls or texts or emails from people in the audience afterward expressing their appreciation or what they liked about the talk, that feels really good. It goes so far to boost my confidence as a speaker.
When I'm with an audience that's particularly engaged, asking questions and having conversations back and forth, that feels amazing as well, because I feel like I'm really connecting with people. That's what I want to do. I want to connect with people in a way that helps them increase their food enjoyment and pass that onto their kids. This is a multigenerational concept. It's a multigenerational goal. And just to be part of that food enjoyment in this generation and for generations to come is it's such a happy goal for me. I'm so happy to be living that reality.
I just feel like I'm going to get better and better with more of those positive interactions. I would start every morning with a talk. I would speak at 7:00 a.m. every morning instead of having a cup of coffee and I will be adequately wired the rest of the day just off of the joy of that.
It happens at my toddler test kitchen classes, where at the end of the class, a parent will always come up to me and say, my child would never have tried a carrot. Well, now they're eating carrots. And my child never tried this before and now they're trying it. Or the best, I brought my child to your class because we're weaning her off of tube feeding and trying to introduce her to her appetite and this went really well and I'm glad that we came. When that mother told me that I just felt so honored to be a part of that child's food journey and food enjoyment journey. That was really wonderful.
AC: That's awesome. Those are really cool experiences to have. Hopefully you can get back to cooking in the kitchen soon with the kids!
YL: I hope so. I hope that things are calming down. I have a great venue, but I live in Arizona and the venue's outside. In the summer we get cooked in Arizona rather than cooking. I'll start again in the fall and I'm optimistic that it will be safe enough to do so.
AC: Would you say you have any final words of advice for aspiring dietitian speakers?
YL: If you love it, do it. Make sure that you respect yourself along the way and keep your boundaries clear, but if you love it, do it. The audience will know that you love it and they will appreciate you and love you for it.
AC: Passion definitely goes a very long way in terms of presence on stage. When someone is speaking with passion, you can feel it.
YL: Especially when you're passionate about food. It's everything. Food is culture. It's connection. Food is joy. When we can find joy in food and we can find connection in food, especially after 2020, it's everything. I'm just happy to be along for the ride.
To hire Yaffi for your next speaking engagement visit her website babybloomnutrition.com.
Follow Yaffi on social media: Facebook @babybloomnutrition, Twitter @babybloomnutrit, Instagram @toddler.testkitchen, Pinterest @Yaffi, Youtube @NapTimeNutritionByBabyBloomNutrition,  and LinkedIn @YaffiLvova.